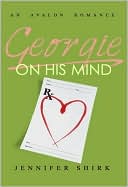 Georgie Mayer has no boyfriend and rarely goes out. In short, she needs a life. Since she's graduated college and returned back home, her brother's protectiveness has been in overdrive, and she hasn't been able to have any fun, never mind get a date.
So what's a poor particularly attractive girl to do in a situation like this? The only thing she can do: find him a woman!
He'll thank her for it in the end. That is, if his best friend Walt Somers would stop interfering with her plans. The handsome pharmacist has made no secret that he doesn't approve of what she's up to. Unfortunately, having Walt hanging around does strange things to her mind, and suddenly she can't help but take a healthy interest in him. But how can Georgie entertain thoughts of the two of them together when Walt still treats her like his best friend's little sister?

&nbsp&nbsp&nbsp&nbsp&nbsp&nbsp&nbsp&nbsp&nbsp&nbsp&nbsp&nbsp&nbsp&nbsp&nbsp&nbsp&nbsp&nbsp&nbsp&nbsp&nbsp&nbsp&nbsp&nbsp&nbsp&nbsp&nbsp


"I really enjoyed this one. Both Walt and Georgie have been burnt by love and are understandably reluctant to try again. The setting of a small seaside town and the entertaining cast of characters make this story a perfect one to while away a couple of hours." 4 Coffee Cups-- Coffee Time Romance & More
"First time author Jennifer Shirk writes a hilarious tale about outspoken Georgie who just wants a normal dating life and now has two men playing interference in it. I thoroughly enjoyed Georgie On His Mind, I was entertained throughout and am excited to see what Jennifer Shirk writes next." ~Cataromance Single-Titles
"
From Booklist
It's hard to get a date if your brother's an overprotective cop, as Georgie knows all too well. Brad, the cop in question, is ruining her love life. A recent college grad, she has found the perfect job at her local pharmacy, and her life would be complete if she could have a nice fling. But that goal is doubly difficult now that her brother's best friend is living with them. Walt tormented her as a kid, and surely he'll make her life miserable now. The only way to distract Brad is to find him a girlfriend, so she enters him into a celebrity date contest, much to Walt's annoyance. She never counted on winning the contest herself, or on Walt becoming her new boss, or on his being so very cute. It's the mature way Walt responds to Georgie's shenanigans that make this romance a standout. Shirk's novel is as breezy and charming as Georgie's seaside surroundings, and her sweet love affair with Walt will linger in the reader's mind long after the tale is told. --Courtney Jones --This text refers to an out of print or unavailable edition of this title.