---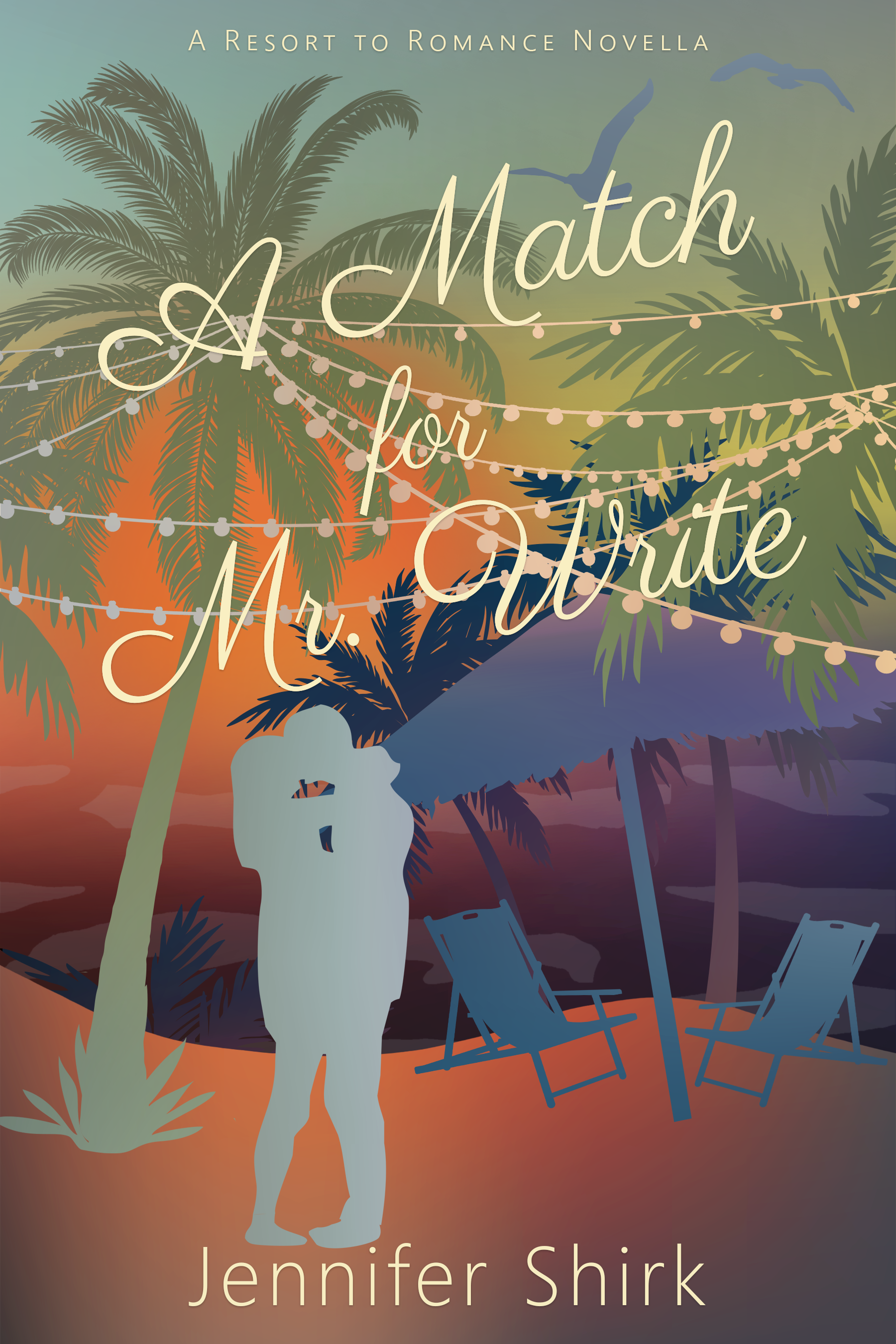 A Match for Mr. Write (Resort to Romance Series)
By Jennifer Shirk
Publisher: Amazon
Release date: April 16, 2019
RESORT TO ROMANCE SERIES
Get ready for ten weeks of romance in the Bahamas with a new series brought to you by some of the best authors in the inspirational and sweet romance genres...
Ten delightful-- and standalone-- novellas linked by one matchmaking week. You'll want to devour each one!
It's Matchmaking Week at an all-inclusive resort on a private island in the Bahamas. Each guest has been expertly paired and is here to enjoy one full week with their match. While there's no money-back guarantee on the paid trip, the participants are guaranteed to find love!
This is A Match for Mr. Write...
Magazine editor Gemma Carmichael has been secretly in love with her co-worker Blade for 5 years and when he suddenly breaks off his engagement, Gemma decides this is her chance to woo her man. He signs up for a matchmaking getaway and she decides to do it too, positive they're a match. But to her surprise, she's matched with Sawyer Bennett, a brooding romance author who only came on the island to write and who doesn't even believe in love. (Obviously, the Sterling sisters have no idea what they're doing!)
Romance author, Sawyer Bennett, did not sign up for this. He thought his travel agent cousin was sending him on a nice, normal vacation in the Bahamas, not to bad reality TV recreation. The only romance he's interested in is the one between his characters. After all, family history has shown him that true love is just fiction, which is why he's so good at writing it. But now, he's stuck in a romance book situation, with contracts that can't be broken and matched to the pretty but kooky redhead, Gemma. (Obviously, the Sterling sisters have no idea what they're doing!)
However, the magazine Gemma works for would provide great publicity for his next release, so he agrees to help her win her true love in exchange for her putting his book on the reviewer's upcoming list. Seems like an easy enough way to pass the week. Sawyer still doubts the existence of true love but by the end of the week, he can't help but wonder if he could finally have found the write woman for him after all.
Find all the Resort to Romance novellas at Amazon or visit the authors's websites!
A Messed-Up Match by Jessica R. Patch
A Meddled Match by Jill Kemerer
Met Her Match by Susan L. Tuttle
Moonlight Match by Kristina Knight
Unexpected Match by Constance Phillips
Match Me If You Can by Krista Phillips
Mismatched Melody by Jodie Bailey
Rematched by Julie Jarnagin
Match You Like Crazy by Johnnie Alexander
Purchase from:

Find all the Resort to Romance novellas at Amazon or visit the authors' websites!
---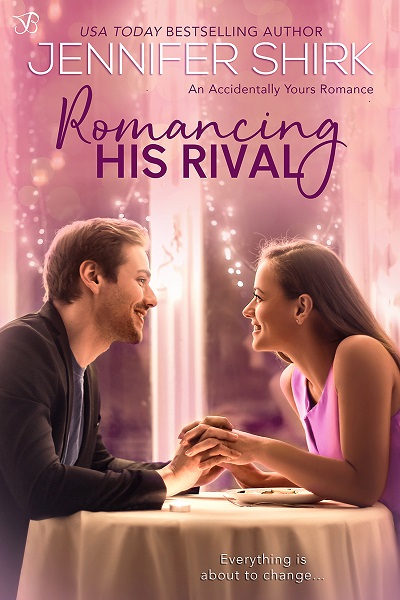 Romancing His Rival (Accidentally Yours #3)
By Jennifer Shirk
Publisher: Entangled (Bliss)
Release date: February 11, 2019
Everything's about to change...
Hopeless romantic Elena Mason doesn't often hate people, but she hates her ex-fiance's insufferable, best-man, Lucas Albright III. She just knows Lucas is the one who talked her ex out of getting married--so Lucas is clearly the cause of all her problems.
And now she's expected to work with him? Oh, heck no.
Lucas Albright wants nothing more than to make partner at his advertising firm, and he knows he works best alone. But then Elena ends up as his partner on an account that could win him a promotion. He had a great reason to end her engagement, not that she'd ever believe him. Still, he's willing to try working as a team.
Unfortunately, his new "partner" wants him dead.
Elena knows she's going to have to give in and work with her nemesis, though nobody said it had to be easy for him. But what happens when fighting starts feeling a whole lot like falling in love?
---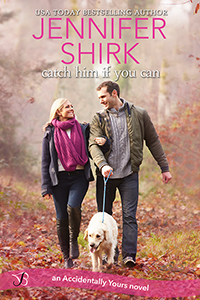 Catch Him if You Can (Accidentally Yours #2)
By Jennifer Shirk
Publisher: Entangled (Bliss)
Release date: August 13, 2018
Veterinarian Wade Roberts is done with love. But try convincing the elderly folk of Cape Harmony who are determined to play matchmaker. Now the young single women in town are bombarding him with baked goods and love notes, and being "taken" is the only way to stop the meddling grannies-which is why he needs a fake fiancee. Fast.
Arden Pearson loves planning weddings. Other people's weddings, that is. After her own engagement ended in disaster, she prefers to live vicariously through her work. But when she needs to persuade a big client that she's capable of planning the celebrity wedding of the year, she's willing to go as far as pretending to be engaged herself to her best friend's older brother.
Soon their ruse has everyone in town believing they make the perfect couple-including Arden. She's always been nothing more than a kid sister to Wade, and it might take a village to convince him otherwise...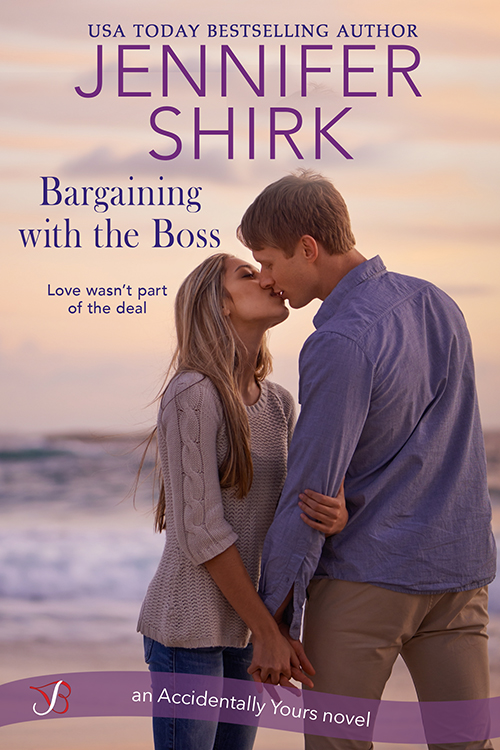 Bargaining with the Boss (Accidentally Yours #1)
By Jennifer Shirk
Publisher: Entangled (Bliss)
Release date: January 15, 2018
Kinsley just wanted to have some fun for a change. Then she wakes up in a stranger's bed, with her bridesmaid dress on backward and a hazy memory of what happened at her friend's wedding. With a quick escape, she can get back to her predictable life. But then she meets her new boss--the same guy she'd woken up next to--and seeing him with a clear head doesn't make him any less attractive.
Mixing business with pleasure has never been Damon's style, and easily avoided, but the hotel he just bought comes with an unexpected perk--its manager. "Sensible" Kinsley today is as alluring as "impulsive" Kinsley was the night before, and she talks him into a deal. If she can turn around the hotel by the end of summer, he won't tear it down to put up a more profitable condos.
Their plan is simple...until falling for each other becomes more than they bargained for.
---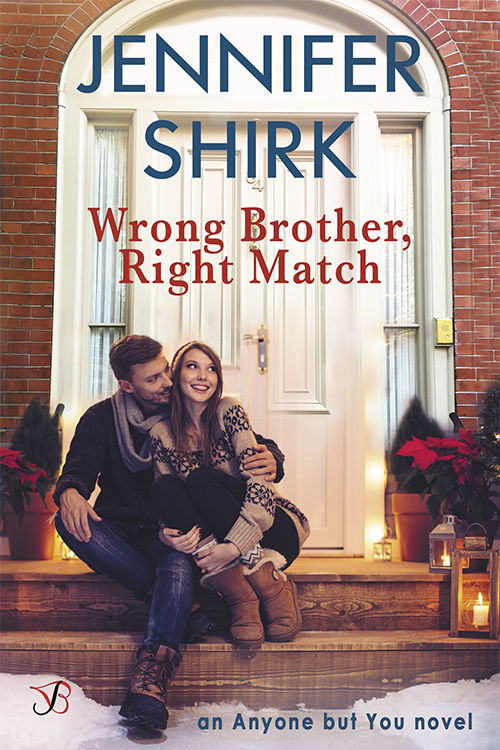 Wrong Brother, Right Match (Anyone But You #3)
By Jennifer Shirk
Publisher: Entangled (Bliss)
Release date: December 5, 2016
Matchmaking guru Kennedy Pepperdine's life is perfect. Perfect job. Perfect friends. Perfect boyfriend. Except...when she gets trapped in an elevator with a handsome stranger, she accidentally confesses a secret: maybe her perfect boyfriend, Justin, isn't so perfect for her after all. But a matchmaker should be able to successfully match herself, right? Thankfully, she'll never see the handsome stranger again. Until she heads home with Justin for the holidays and learns that the sexy stranger is none other than Justin's older brother, Matt.
Matt Ellis is trying to be on his best behavior for his mother-it is Christmas, after all. But when he recognizes the beautiful woman from the elevator-the one he hasn't been able to stop thinking about for months-his best behavior is being held by a thread. Matt's always sacrificed for his family, and nothing is more important than their happiness, but the more time he spends around Kennedy, the more he wonders if her supposed "right match" might just be the wrong brother.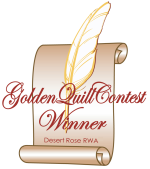 ---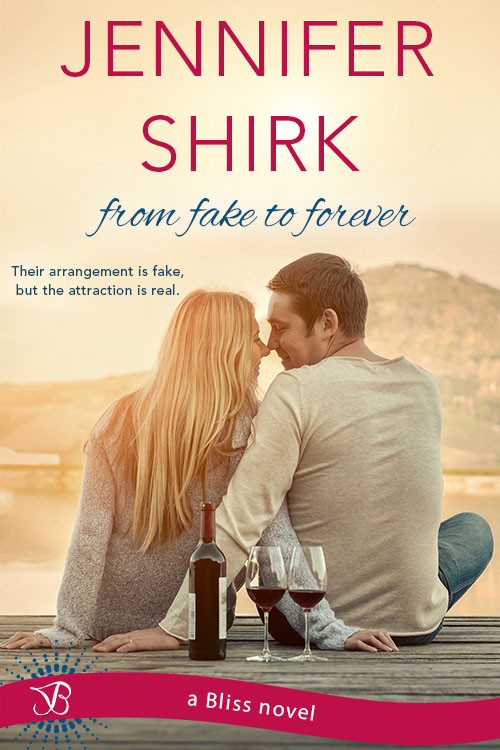 From Fake to Forever
By Jennifer Shirk
Publisher: Entangled (Bliss)
Release date: June 6, 2016
Sandra Moyer's preschool is struggling, so when her sister suggests allowing a super-famous actor to research his latest role there, she reluctantly agrees. Except the actor turns out to be Ben Capshaw--a playboy who's never serious, always joking around, and who knows zero about kids or being a parent. Case in point: his involvement in the untimely death of the preschool's class pet...
Ben is enjoying teaching more than he thought he would, but that doesn't mean he's looking for a permanent position. Sure, he's ready for more serious movie roles and less goofing off, but the buttoned-up, beautiful Sandra and her young daughter are more than he bargained for. Plus, Sandra still won't trust him--what if it's all an act, research for the role? As the lines between make-believe and reality blur, Ben will have to decide if love is worth casting aside the role of his life for a new role...that could last a lifetime.
Previously released as The Role of a Lifetime - (May 2008) and has been enhanced with new material.
---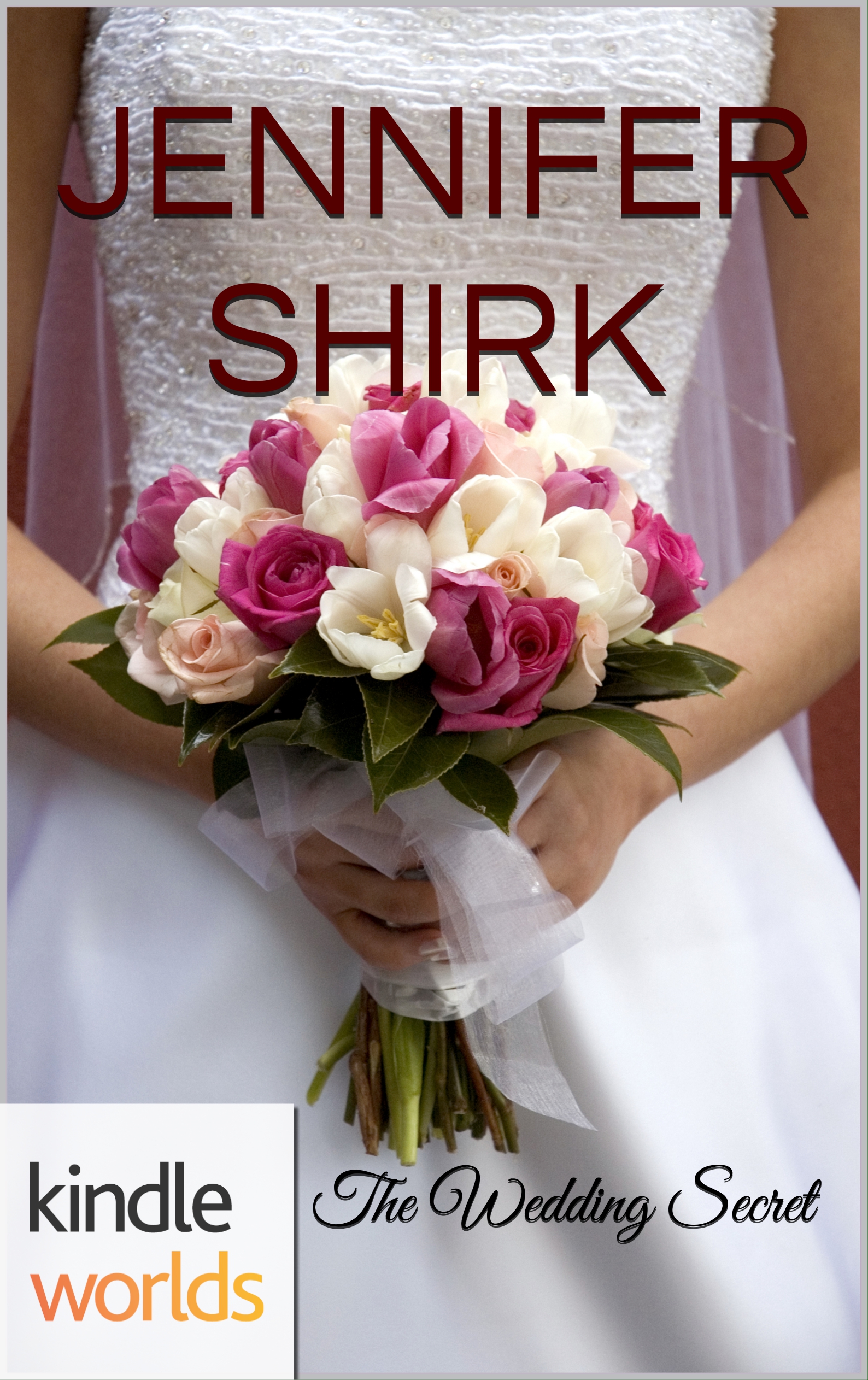 The Wedding Secret (A Kindle Worlds novella)
By Jennifer Shirk
Publisher: Amazon Kindle Worlds
Release date: May 4, 2016
Ten years after a high school pregnancy left her abandoned by her family, single mother Brenna March is finally getting her life under control. In possession of her dream job as a florist at the Rose Chalet, one of the premier wedding spots in San Francisco, she's about to prove her worth and take on her first wedding as head florist. Unfortunately, the best man is none other than Senator Ashton Mirenda--her old high school sweetheart and the father of the daughter he knows nothing about.
Ashton doesn't have time for marriage or a family. He has other aspirations and the first is winning the next senate seat election. Or so he believes until he meets a woman from his past. Seeing Brenna again stirs something inside him he'd thought long dead, and he knows that he wants her beside him all the way to the White House.
But Brenna is holding a ten year old secret, one which could not only hurt his chance for re-election but also their chance to rekindle the love they once shared.
---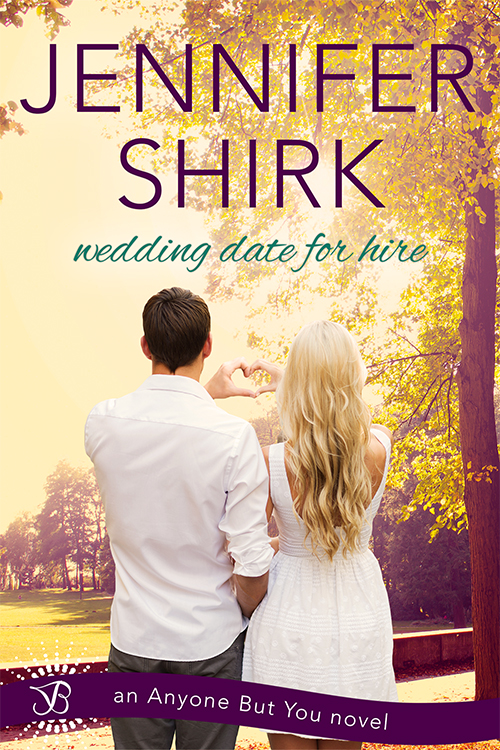 Wedding Date for Hire (Anyone But You #2)
By Jennifer Shirk
Publisher: Entangled (Bliss)
Release date: October, 12, 2015
Maddie McCarthy is single, between jobs, and (oh, the shame) lives with her mother. To make matters worse, she's the maid of honor for her sister's wedding, and desperately needs a date. Then she sees her salvation-Match Made Easy, a service for women in Maddie's exact position. If she can't find a boyfriend, she'll do the next best thing...
Hire one.
Trent Montgomery isn't actually part of Match Made Easy. He's just doing a favor for his cousin, but one look at the blonde who hired him, and he's totally hooked. Now Maddie thinks that the attraction sizzling between them is just "part of the package." And Trent is running out of time to prove to her that her date-for-hire might just be her happily-ever-after...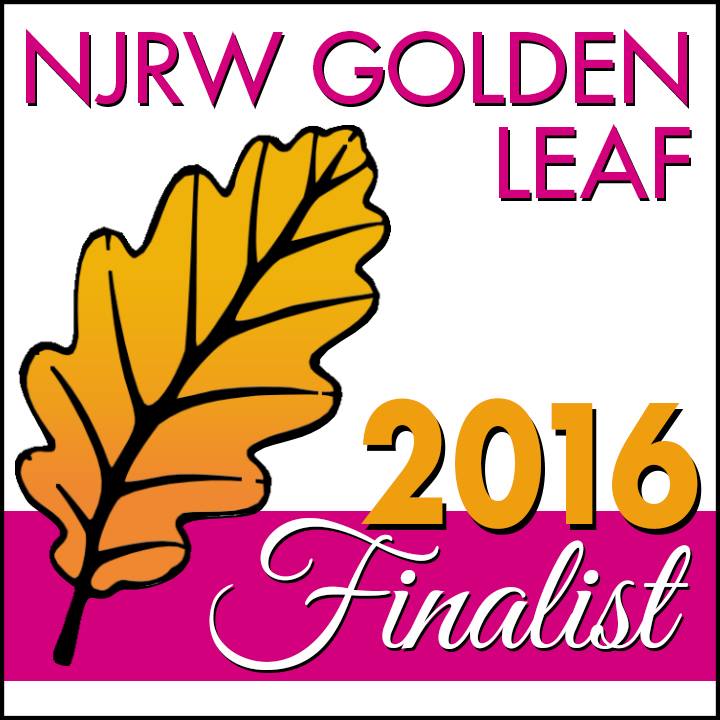 ---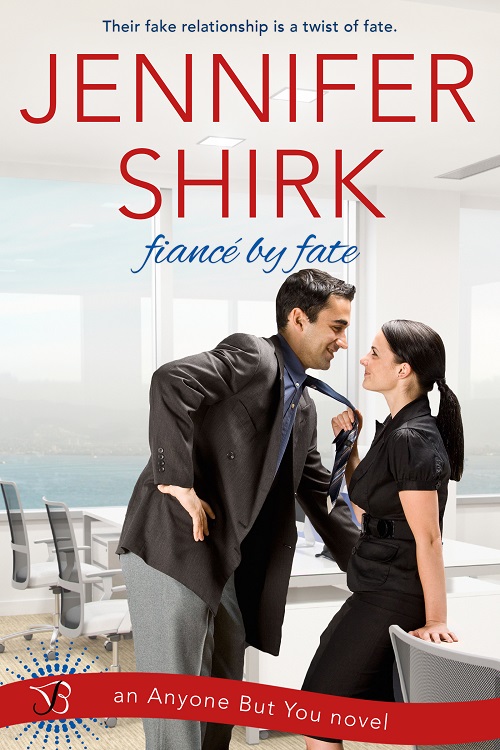 Fiance by Fate (Anyone But You #1)
By Jennifer Shirk
Publisher: Entangled (Bliss)
Release date: April 14, 2014
Their fake relationship is a twist of fate.
Sabrina Cassidy believes in fate. So when her fiance breaks off their engagement, she's convinced they'll get back together eventually. But fate was not on her side when it brought Jack Brenner into her life--and work. Frustrating, gorgeous, and cocky, Jack has an offer that Sabrina can't refuse. Not if it means getting the life she's always imagined.
Despite being one of the town's most eligible bachelors, Jack has a reputation that's working against him. He has to convince his father--and his company's board--that he's ready to settle down if he wants a promotion. But convincing Sabrina to be his fake girlfriend turns out to be the easiest part. What he didn't count on was their intense attraction and how easily their lie would escalate. Sabrina's still hung up on her ex, and Jack will never settle down.
But fate has other ideas...
---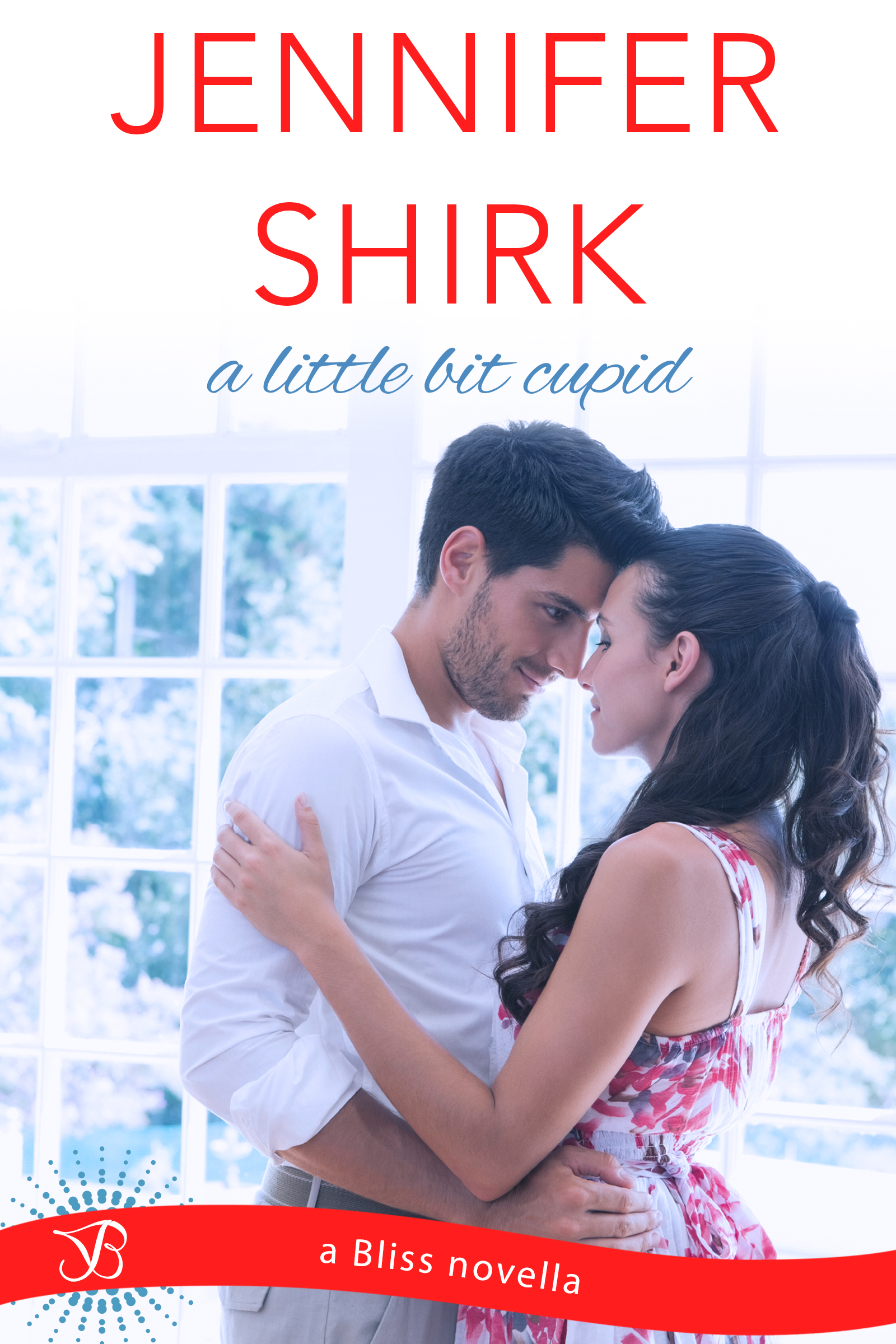 A Little Bit Cupid
By Jennifer Shirk
Publisher: Entangled
Release date: Jan 14, 2013
Finding love should be easy, but wedding photographer Phoebe Ward knows better. When Cupid shows up on a crazy mission to help her and save the world in the process Phoebe realizes love might be even more complicated than she thought. Even with Cupid showing her Mr. Right, she can't stop thinking about his best friend, Mr. Wrong.
Cal Crawford has never had time for love, but now he's falling for Phoebe. Which means it's got to be just plain wrong to set her up with his best friend, right? But even though seeing Phoebe with someone else will break his heart, he can't walk away from her.
Phoebe can't afford to choose the wrong guy with the fate of the world at stake. But maybe Cupid has it wrong. Maybe she has to rely just a little bit on Cupid, and a whole lot more on her heart.
---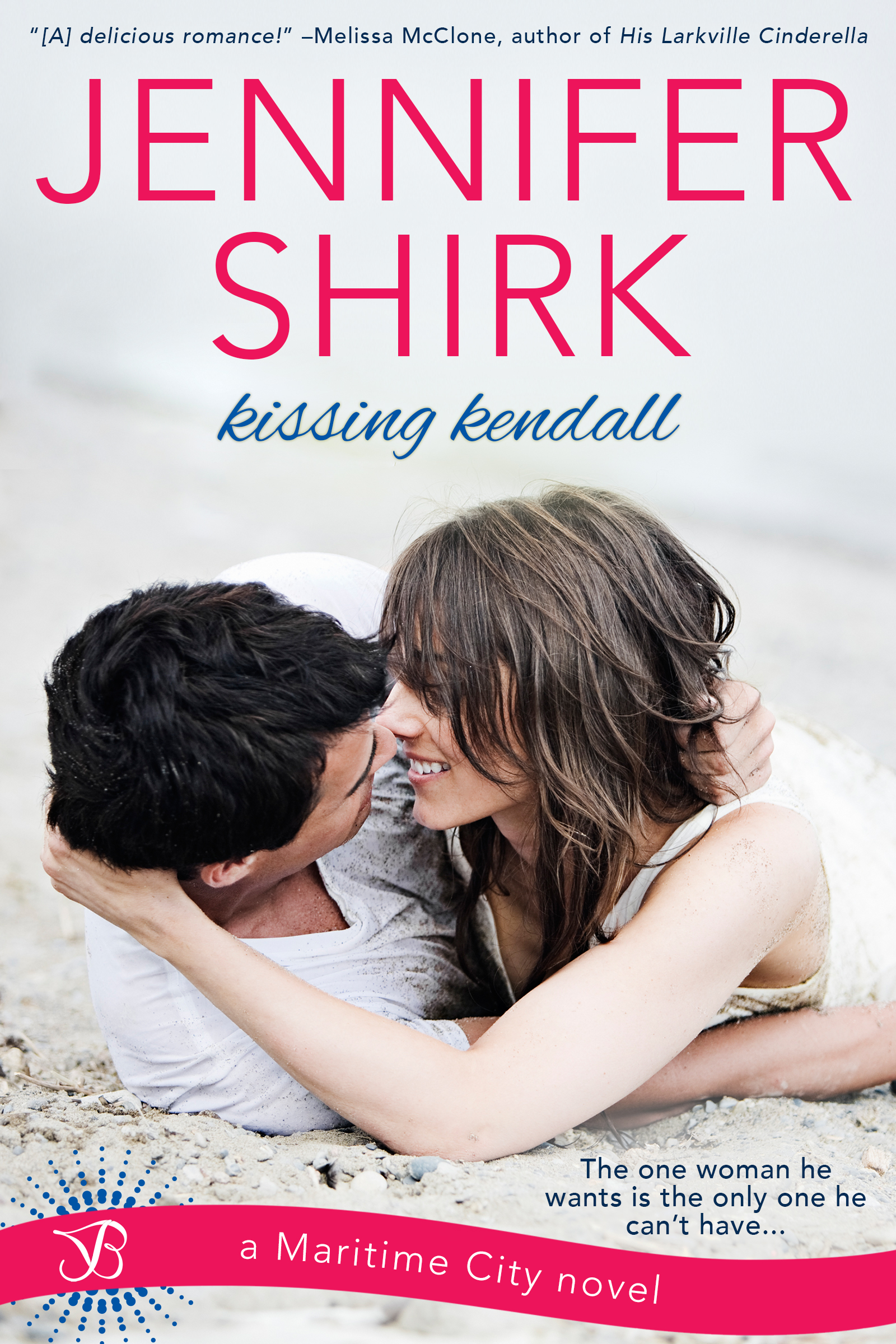 Kissing Kendall (Maritime City #2)
By Jennifer Shirk
Publisher: Entangled (Bliss)
Release date: Dec 10, 2012
Kendall Grisbaum is finally taking charge of her life-pouring her heart into opening a new bakery business and even allowing her best friend Georgie to play matchmaker for her. Trouble is, the one guy she secretly wants is Georgie's older brother, Brad, who is decidedly off limits.
Brad can't seem to get his little sister's best friend out of his mind. He and Kendall used to be close friends, too, and as a local policeman, Brad can't help but play protector, looking out for Kendall. When he offers to help her renovate her new bakery space on the side, their friendship-and their attraction-flares back to life.
Amid the temptation of doughnut muffins and blueberry cobbler, a new temptation draws them both closer. Can they take a chance on love when it means risking their friendship, even when not doing so risks everything?
---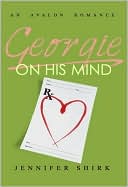 Georgie on His Mind (Maritime City #1)
By Jennifer Shirk
ISBN: 978-0803477827
Publisher: Avalon Books
Release date: August 2010
Georgie Mayer has no boyfriend and rarely goes out. In short, she needs a life. Since she's graduated college and returned back home, her brother's protectiveness has been in overdrive, and she hasn't been able to have any fun, never mind get a date.
So what's a poor particularly attractive girl to do in a situation like this? The only thing she can do: find him a woman!
He'll thank her for it in the end. That is, if his best friend Walt Somers would stop interfering with her plans. The handsome pharmacist has made no secret that he doesn't approve of what she's up to. Unfortunately, having Walt hanging around does strange things to her mind, and suddenly she can't help but take a healthy interest in him. But how can Georgie entertain thoughts of the two of them together when Walt still treats her like his best friend's little sister?
Purchase from:
Amazon.com kindle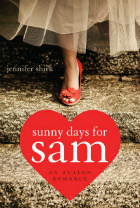 Sunny Days for Sam
By Jennifer Shirk
ISBN: 9780803474680 (print)
Publisher: Avalon Books
Release date: April 6, 2012
Sunnyva "Sunny" Fletcher is a firm believer in fairy tales. With the recent debt she's acquired, the hope of something magical happening in her life is the only thing keeping her going. She needs a job fast. So when Sunny learns the sexy new vacationer in town is looking for a nanny, she starts to believe she just may have a fairy godmother after all!
Internet guru Sam Calloway is only in town for the summer and needs a nanny for his two small children. However, the beautiful and inexperienced Sunny is not exactly the kind of caregiver Sam has in mind. It doesn't take long for Sunny's tenderhearted and bubble-blowing ways to soon have the children-and Sam-enamored with her. She's a dream come true. But after what Sam's been through, he's stopped believing in fairy tales long ago.
Sunny manages to work her way into Sam's closed-off heart, but at the end of the summer, will the workaholic dad go back to his life in New York City, or will he decide his days are much sunnier here with Sunny?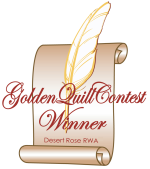 ---